Fire Magic gas grills and outdoor kitchen equipment are constructed out of high-quality stainless steel in the USA. Each grill they manufacture has been meticulously designed to give unmatched cooking performance and versatility while looking as elegant as possible. Create your own outdoor kitchen using their full line of gas grills, kitchen storage and refrigeration options.
Made in the USA for over 75 years
Widest range of products to choose from
Industry Leading warranty
Larger cooking area than other same sized gas grills
Constructed from high-quality 304 stainless steel
Intense high heat direct cooking system with ability to cook from 200-1000 degrees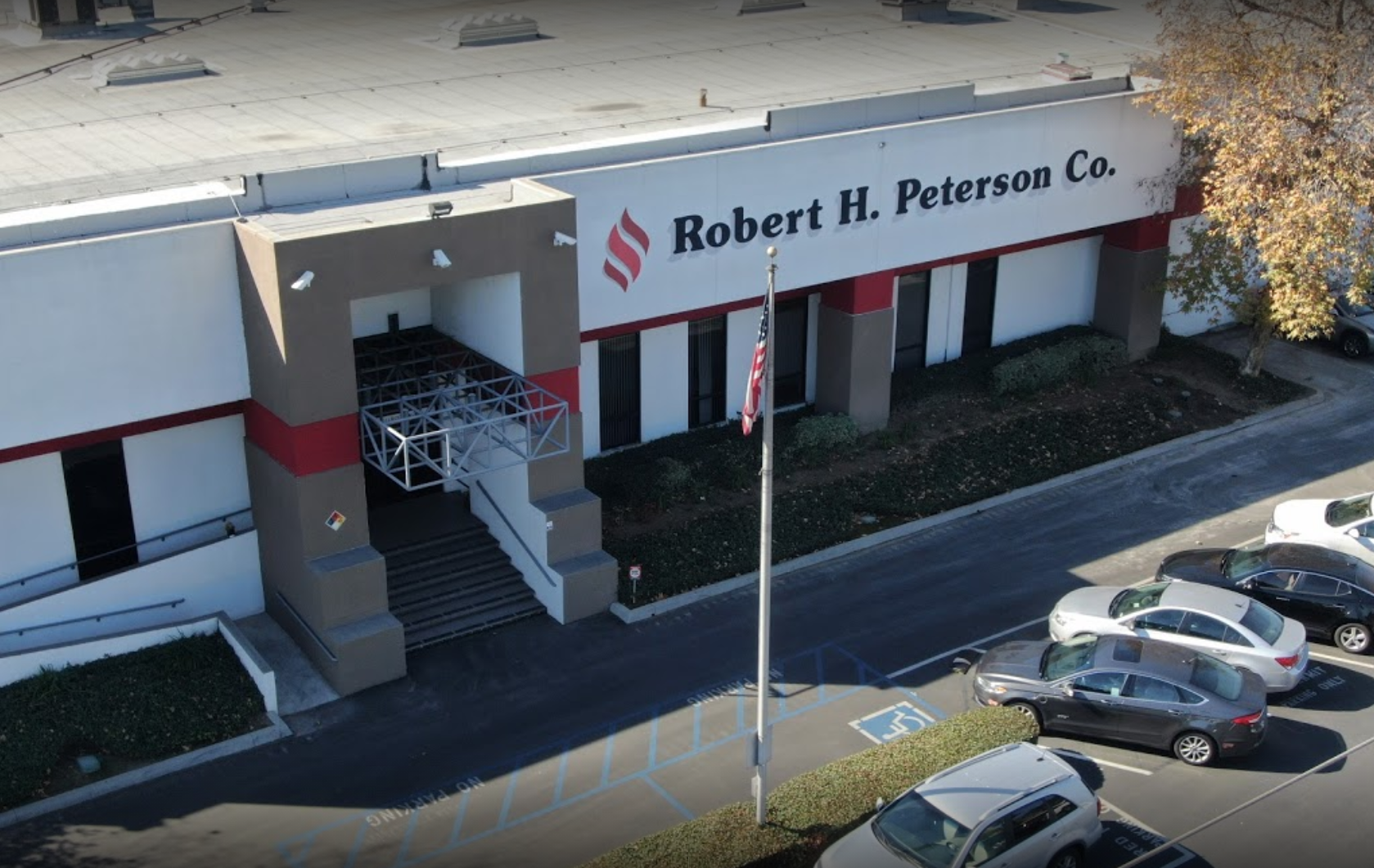 History of Fire Magic
Fire Magic was founded in 1937 by Harold Keck. Harold founded Fire Magic with the vision of a new standard for outdoor cooking and living and for over 80 years they have been one of the leading American manufacturers of natural gas grills, liquid propane grills, charcoal grills, electric grills, beer dispensers, ice makers, outdoor refrigerators, and stainless steel outdoor kitchen storage. Harold, along with his friend Bob Peterson created RH Peterson Co, and through this partnership they were able to cement Fire Magic as a favorite among contractors and homeowners alike.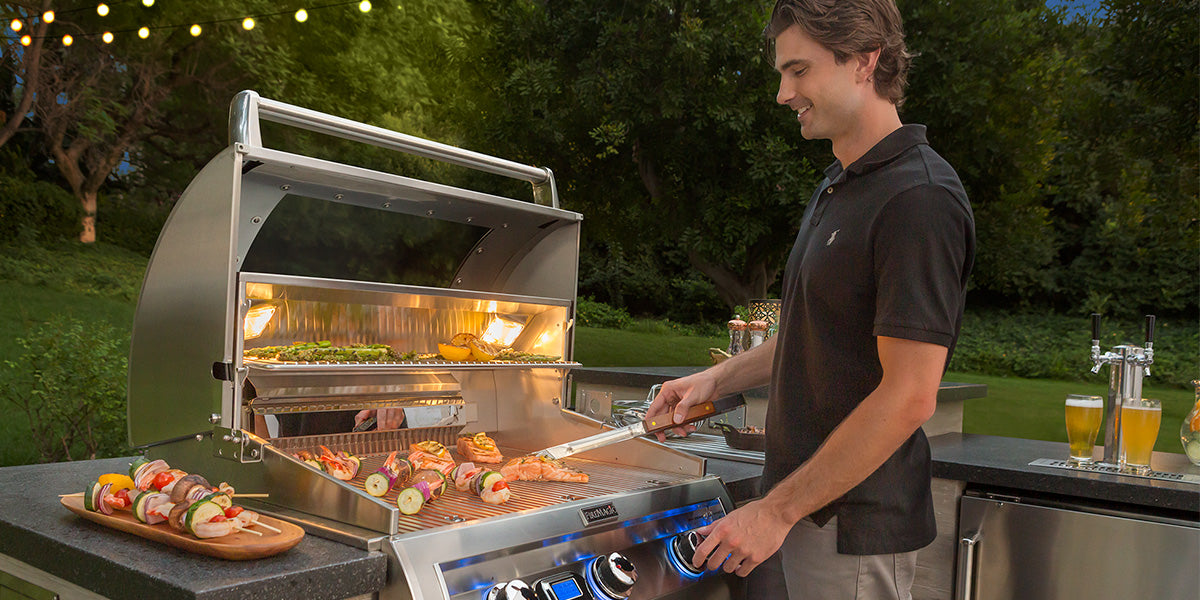 Why we like Fire Magic
We like Fire Magic because they are built to last out of 304 stainless steel in the USA and offer more options, configurations and versatility than any other brand on the market. Whether you need a freestanding gas grill, built-in charcoal or gas grill, kegerator, side burner, access doors, storage drawers or refrigeration they have you covered. Fire Magic also offers commercial grade multi-user grills for apartments and common spaces which are a popular choice for contractors. All of Fire Magics outdoor kitchen appliances are thoughtfully engineered, beautifully designed, and backed by one of the best warranties in the business.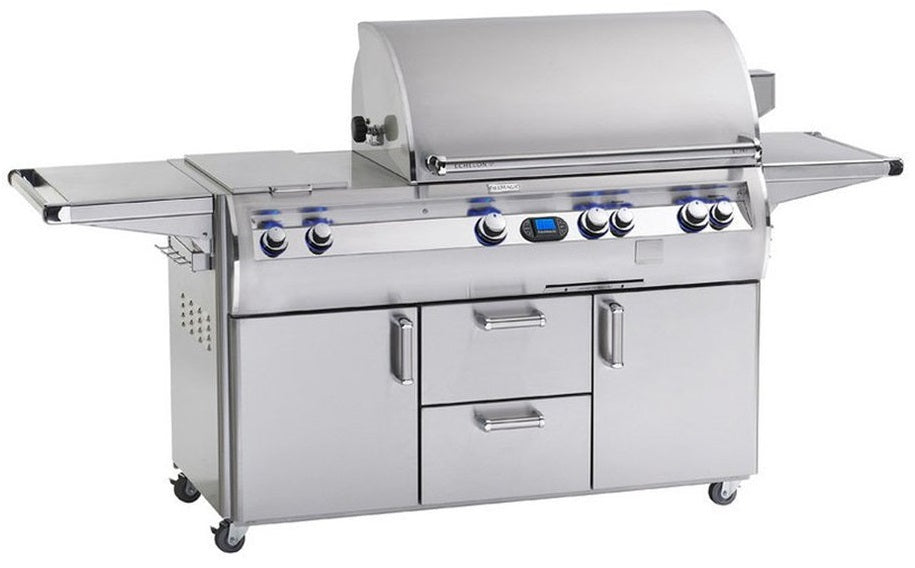 Built-In & Freestanding Grills
Fire Magic grills offer the most BTUs per square inch and can cook from 200 to 1000 degrees. Their heavy-duty diamond sear stainless steel cooking grates provide steak house quality sear marks and an optimal cooking surface. Because of the way they manufacture their cooking grids their gas and charcoal grills offer more cooking area then other similar sized grills. Instead of using a briquette system Fire Magic uses a proprietary stainless steel flavor grid system that allows for higher heat and minimal flare ups. Configure your grill with additional options including a rotisserie, sear burner, side burner or even their patented Magic View Window.
Shop now
Outdoor Kitchen Storage
Fire Magic has a variety of storage options for your outdoor kitchen or grill island. Each piece is manufactured out of 304 stainless steel and is built to last. They have three levels of product so you can find storage drawers and access doors at any budget. Flush mounted is the top tier with a flush door design, integrated rain guard and most of them come with a soft close feature. The middle grade is referred to as Select and offers the same double walled and square edge construction and integrated rain guard, but the doors do not sit flush in the frame. The Legacy line is the most economical choice and has a black slam latch for secure closure.
Shop Now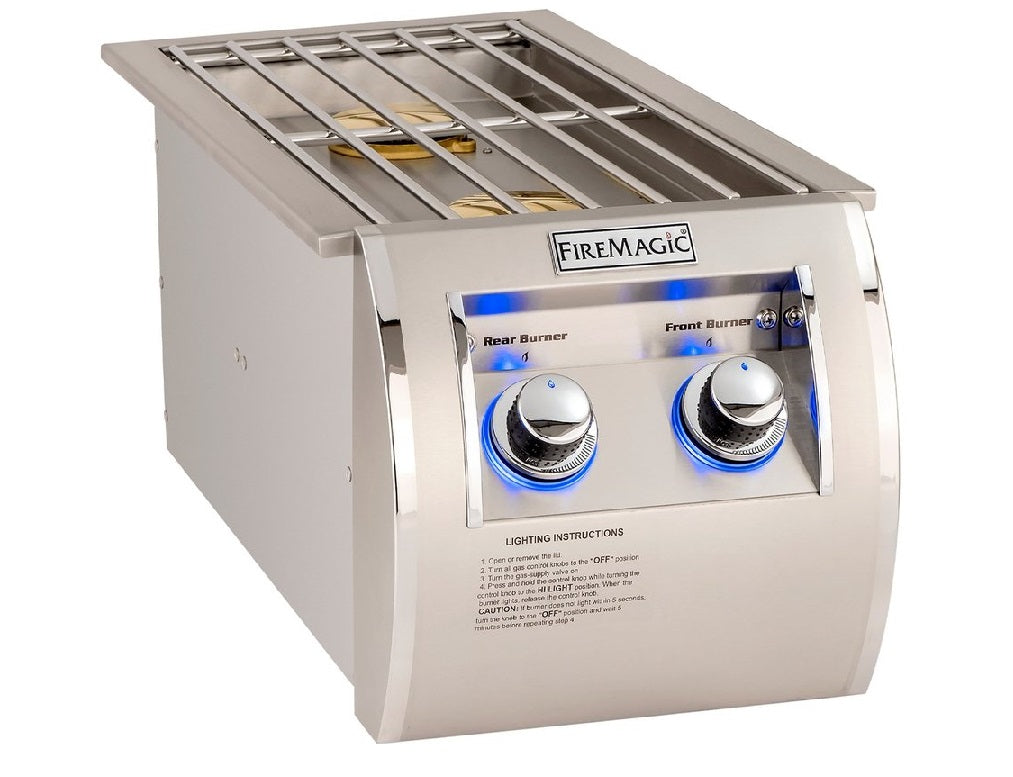 Side Burners
One of the most popular complementary grill accessories is the side burner. Fire Magic offers several types of side burners including single or double burner standard gas side burners which are great for keeping sauce warm for basting or heating up a side dish. There is also the power burner which runs much higher BTU's and is great for boiling large pots of water or wok cooking. Fire Magic also sells a sear station which uses an infrared sear burner to achieve temperatures up to 1200 degrees.
Shop Now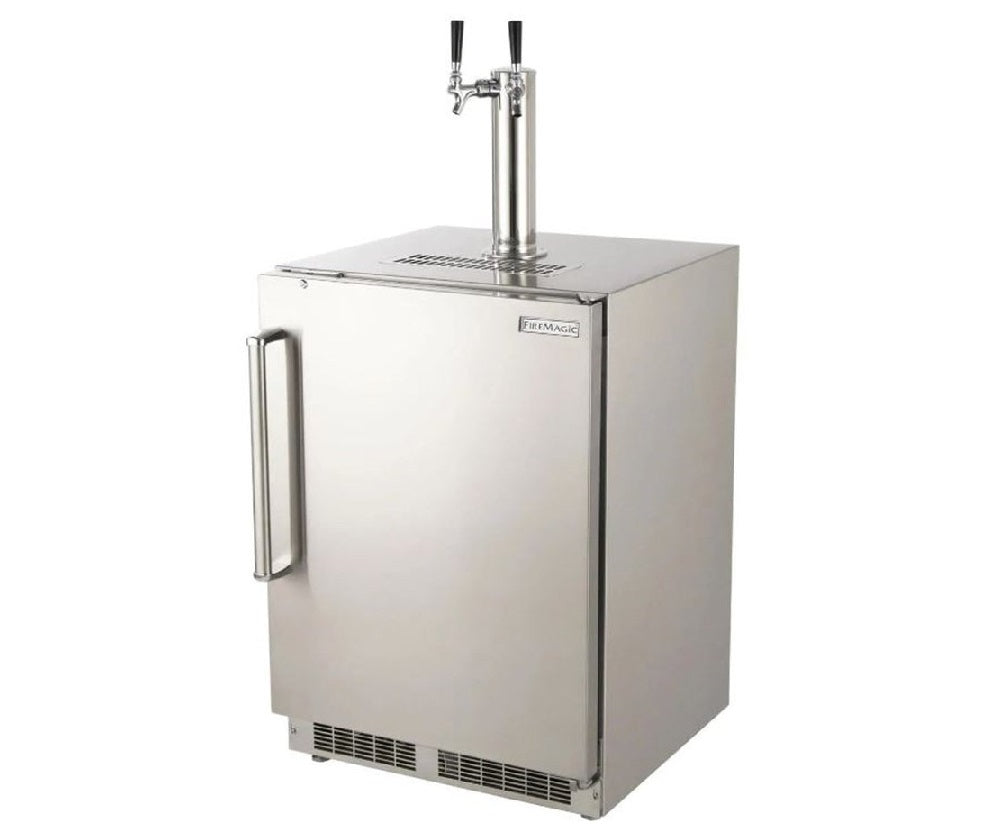 Refrigeration
Your outdoor kitchen is not complete until you have some refrigeration. Keep condiments and drinks close with an undercounter refrigerator. Fire magic has refrigerators to fit any budget. They offer entry level refrigeration and higher end UL Certified outdoor rated units as well. Beer is the perfect companion for BBQ, keep the beer flowing with Fire Magics dual tap kegerator and keep the cocktails cool with their outdoor rated clear ice maker. All refrigeration is housed inside a stainless steel body and comes with an integrated lock.
Shop Now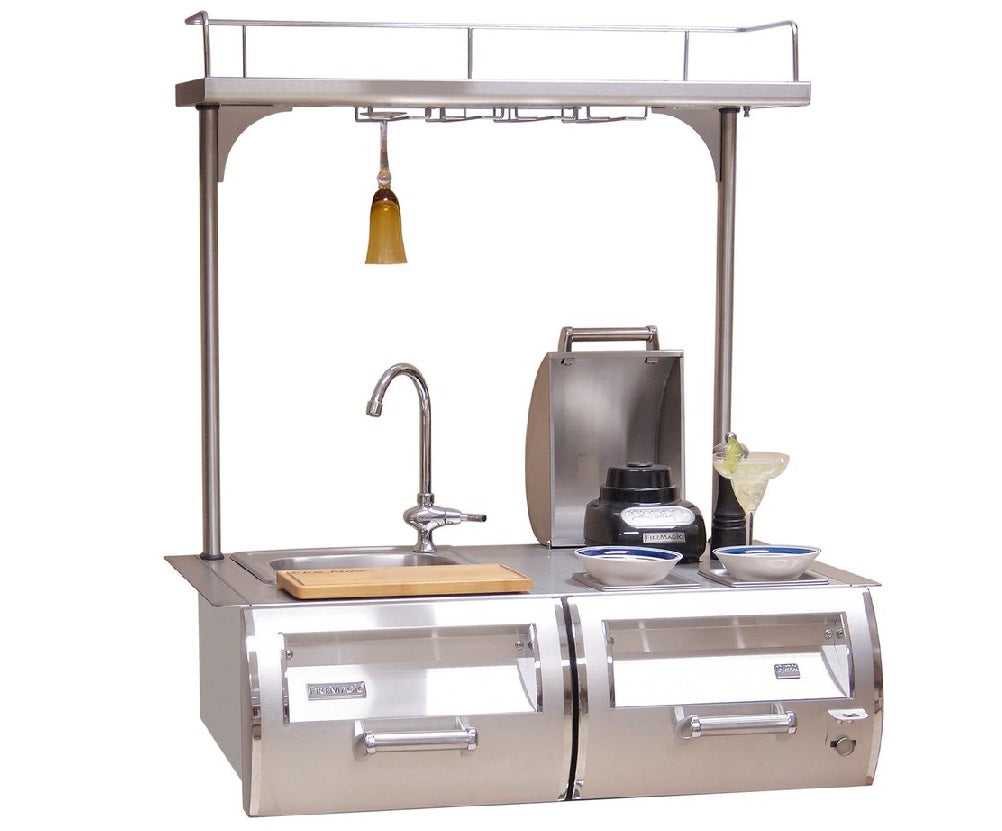 Bar Stations and Ice Bins
What pairs well with good food? How about great beer and cocktails? Utilize one of Fire Magic's built-in bar stations or prep centers to be your very own craft cocktail expert. Most bar stations feature a sink, cutting board and bins to store drink garnishes. If you prefer canned beverages, you can use a drop-in ice bin cooler. Pour in ice and add your favorite canned beer, wine, or any bottled beverage, its an easy way for guests to grab a cold beverage.
Shop now
Designed and made in the USA for over 80 years. Fire Magic is one of the leading brands of BBQ's and outdoor kitchen accessories. Praised by homeowners and contractors alike Fire Magic products are designed to be the center piece of your backyard space and built to stand the test of time.
Browse the entire fire magic collection Click here