Beautifully finished cabinets designed to withstand the elements and the test of time

Call us at 800-311-4356 to Talk to an Expert today
No time? Send us an email and we will get back to you shortly.
Sales@grillscapes.com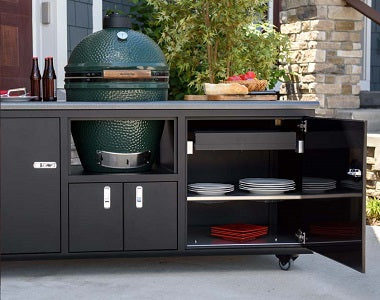 Torch Series Grill Carts
Weather proof outdoor carts for your ceramic kamado style grills. Choose from a cabinet style cart with dry sealed storage or a open cart for even better value.
Coastal Series Prefab Islands
Outdoor kitchen islands that are pre-sized and arrived fully assembled with a countertop. A great hassle free option with no assembly required.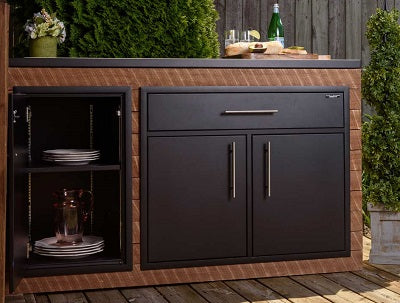 Canyon Series Storage inserts
Weather resistant stainless steel inserts to build into your own stucco or brick kitchen island. Avaliable as a full enclosure or as door and frame only.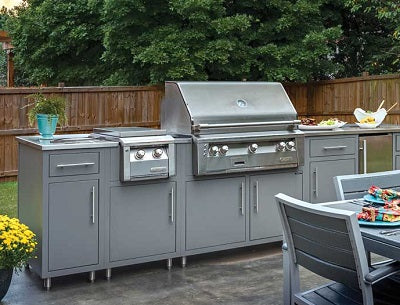 Customizable Kitchen Cabinets
Design a one of a kind outdoor kitchen island using challengers all aluminum rust free cabinets. Choose from different colors and door styles to fit your taste.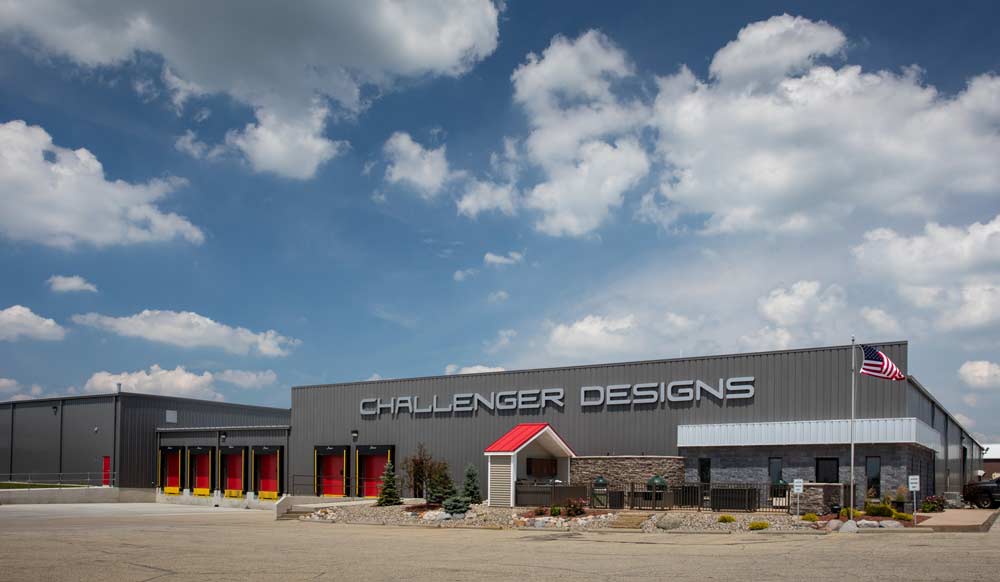 About Challenger Design
Challenger Designs started in 2008 as an offshoot of Challenger Door. In their hometown of Indiana there is a large following of kamado style cookers, challenger took notice of this and started to produce prefabricated aluminum outdoor grill carts for the Big Green Egg ceramic grills. The prefabricated carts were at hit and they progressed to building outdoor grill carts and enclosed cabinets for stainless-steel gas grills as well as outdoor kitchen island storage and access door inserts. Naturally, Challenger then progressed to offering outdoor custom kitchen cabinets with the ability to integrate any grill, refrigerator, sink, or outdoor appliance needed as well as an abundance of storage solutions.
Built to Last
Today challenger is the leader in outdoor cabinetry. Sticking with what has given them so much success in the past all Challenger cabinets are made of out nonrusting aluminum with stainless steel pulls and legs. Cabinets and enclosed storage are gasketed, weather tight and are offered in a variety of powder coated finishes in either a flat or shaker style door. Appliance cabinets are designed and built according to the manufacturer's specifications to ensure a perfect fit, every time.
Outdoor Custom cabinets get a free 3d rendering for you to get an idea of your finished project will look like. Each outdoor cabinet base comes fully assembled and they are modular for quick and easy installation. Cabinets can also be ordered with a 304 stainless steel or powder coated aluminum countertop or if you prefer, they can be shipped out countertop ready so that you can finish it with an alternate surface such as granite.


Challenger designs offers a quality product made here in the USA. This means you can expect the highest level of craftsmanship and quicker delivery of your finished product. Enjoy rust free fully aluminum construction and a variety of outdoor-rated powder coated finishes for a low maintenance product that will last a lifetime.