Alfa
Alfa Pizzaiolo Thirteen Piece Pizza Oven Accessory Kit w/ 47-Inch Peel Set - KITPIZ-125
Model # KITPIZ-125
by
Alfa
Regular price
List Price:

Sale price

$569.00

Unit price

per
+ Free shipping
&
No Sales Tax*
Sales tax will only be charged to purchases shipped to the state of California or the state of Kansas and it is calculated based on your zip code. If you ship product to any other state, you will not be charged sales tax.
Additional Options
Have You thought about adding Cabinets?
Let us design your ourdoor kitchen space for free.
---
SHIPPING TIME MAY VARY

Please chat, call or email for an estimated shipping time.
Product description
Alfa Forni
Alfa is an Italian manufacturer of pizza ovens made for those who love traditional taste and want to try a real superior cooking experience. Each Alfa pizza oven is built entirely in Italy in their factory close to Rome. Thanks to Alfa's FORNINOX technology which combines a refractory floor and stainless steel (1/10 in thick) structure and their patented flue system their pizza ovens retain more heat and can get hotter than the competitions. Alfa's pizza ovens are ready to use after unpacking, and you don't have to do and hard building or finishing work. Use your Alfa pizza oven for baking, grilling, roasting or stewing.
The round peel is lightweight, sturdy and easy to handle. Furthermore, thanks to its brushed stainless steel structure, it allows you to clean the part that touches the pizza.
The Alfa ember-mover permits you to prepare the oven floor and to move the ash, embers and burning wood to the side.
The peel to put the pizza in the oven, with its wooden handle and brushed stainless steel structure, guarantees robustness, cleanliness and handling. Its rounded edge makes putting pizza in the oven easy.
The brush is equipped with brass bristles which render cleaning more effective and, most of all, preserve the refractory floor.
The dough ball box guarantees the proper air conditions and maximum hygiene for the rising process. Suitable for any home refrigerator (inch 11.8 x 15.7 x 4H).
Asymmetrical small paddle for dough balls to simplify handling the dough balls. Pastry cutter, with ergonomic handle and stainless steel blade, perfect for a clean cut of the dough.
The heat-resistant glove in 100% cotton bouclé continuous filament is ideal to safely use the hot parts of the wood-fired oven.
With the spruce chopping board processed for food products, it is possible to follow the furrows in order to cut the pizza in equal parts.
The infrared thermometer allows you to read the temperature on all points of the oven floor in order to bake at the right time.
In the cookbook there are lots of recipes to cook in your wood fired oven. The recipes are made by the Alfa cookers.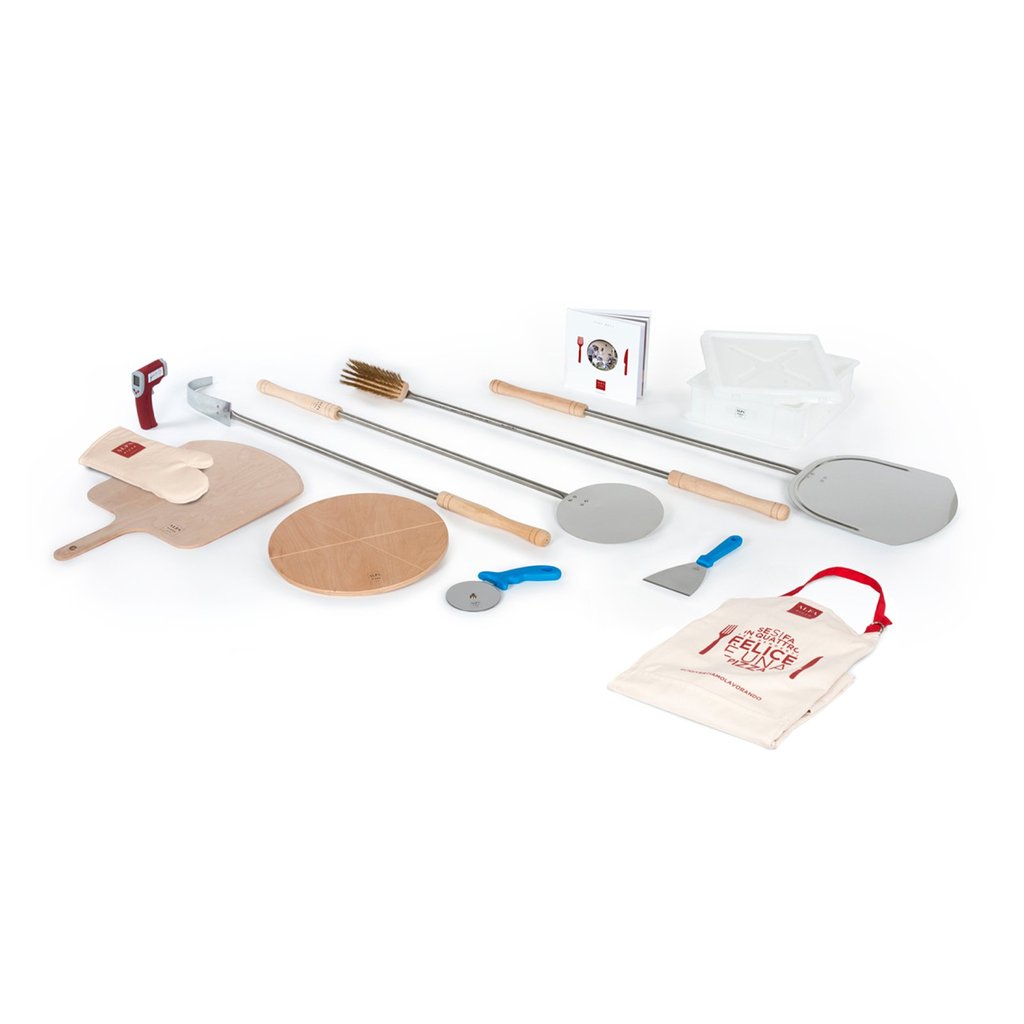 Shipping info
60 Day "No Hassle" Returns
Return all new, unused, non-assembled, and resalable items in their original packaging for a full refund (minus actual shipping cost we incurred) within 60 days from date of purchase.
No Restocking Fee
Yes seriously, none.
Outside the Continental U.S. Orders
We do not ship items directly outside of the Continental U.S.
DELIVERY INSPECTION
Over 99% of deliveries have no external or internal damage and are signed for without a problem. For your protection, we ask that you please inspect your packages upon receipt.
IMPORTANT- You have 48 hours to call us to report delivery damage. You must also note any damages on the Bill of Lading from the shipper.
If you authorize the freight company to leave freight without a signature, Grillscapes.com cannot be held liable for any damages or missing pieces. Leaving a note is the same as signing for your products in good condition.
Questions or concerns? Contact us Here we will be glad to help.
Warranty
Alfa Warranty
The oven is guaranteed for 2 (two) years against defects and craftmanship; good maintenance and proper use can make sure that the oven lasts much longer. Warrant covers parts and components for wood and 1 (one) year labor on natural gas and propane gas ovens. Shipping and assembly costs are charged to the customer.
Legal
WARNING: This product contains chemicals known to the State of California to cause cancer and birth defects or other reproductive harm. For more information visit: www.P65Warnings.ca.gov